The Telangana Gig and Platform Workers Union (TGPWU) has launched the 'No AC campaign' with Ola and Uber drivers across Hyderabad, in order to demand an increase in drivers' fares. Drivers participating in this campaign are requesting an additional payment from customers of Rs. 50-100 to switch on the AC, explaining that Ola and Uber's low base fares, combined with the rising fuel prices, leave them with little take-home earnings. The campaign is geared towards raising customers' awareness about drivers' hardships, and building solidarity between drivers and customers. We appeal on our customers to write to Ola and Uber asking that they increase drivers' pay to keep up with rising fuel prices.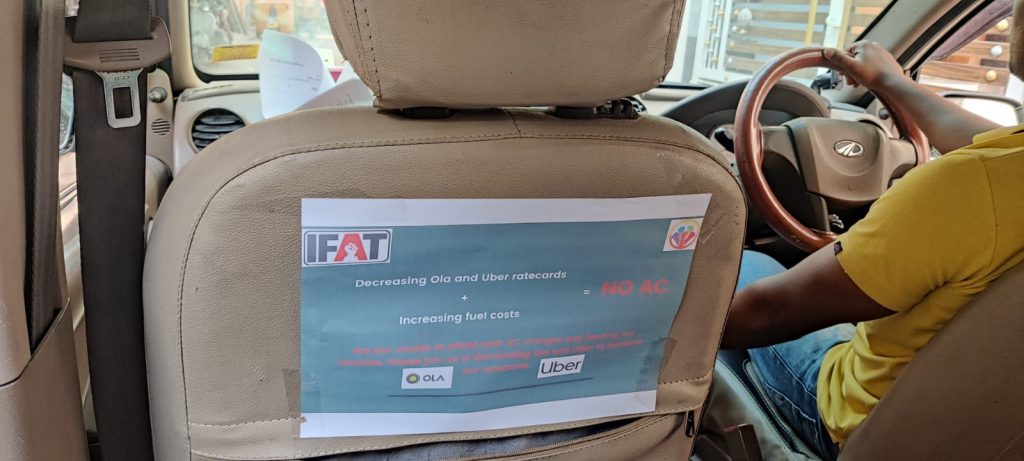 Partners:
The 'No AC' campaign is being conducted simultaneously across several Indian cities in collaboration with other ride-hailing unions. We thank and stand in solidarity with our sister unions: West Bengal Online Cab Operators Guild (Kolkata), Namma Chalakara Trade Union (Bengaluru), Maharashtra Rajya Rashtriya Kamgar Sangh (Mumbai), Sarvodaya Drivers Association (Delhi), and Independent App-based Cab and Drivers' Association (Lucknow).
Update:
Victory! A few days after this campaign, Ola and Uber raised drivers' fares in Hyderabad by up to 20%, and up to 15% respectively.
See more about this campaign: